Head Coach Mickey Leapley
eMail: [email protected]
---
Hello and welcome to the PHVS Sharks Boys Golf Athletic webpage. Many of you know we are the defending 2A FHSAA Defending State Champions. Our team is loaded with talent from top to bottom.
---
A huge congratulations to freshman, Will McGriff who has been offered a scholarship to play golf at the University of Florida. Will has verbally committed to them. 
---
BACK TO BACK 3A STATE CHAMPIONS!!!!!!!!!!!!
The boys golf team became Back to Back State Champions at Howie Hills in Orlando on November 3, 2018.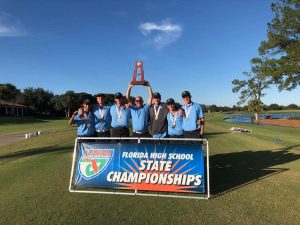 ____________________________________
Region Champions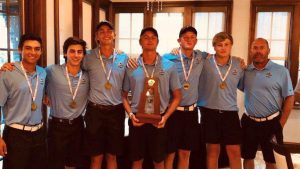 _______________________________________
District Champions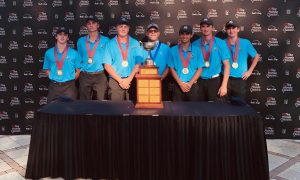 Jr. Honda Classic in Palm Beach
October 16, 2018
From Coach Mickey Leapley:
Everyone at the Honda Invitational contributed on either the first, second or both days. How about it for number 6 player, Conner Holcroft, going low for the team.
Depth in the lineup is a key factor for continued success in our golf program. I say this a lot… "Competition breeds success". It's true, all 15 players push our team to where we are today. Good stuff.
---
Home school students must complete an EL7 with our county office and submit to athletics prior to the first day of the season along with the above listed forms.