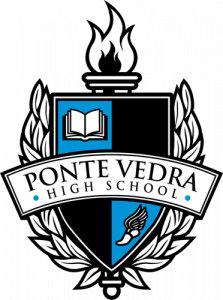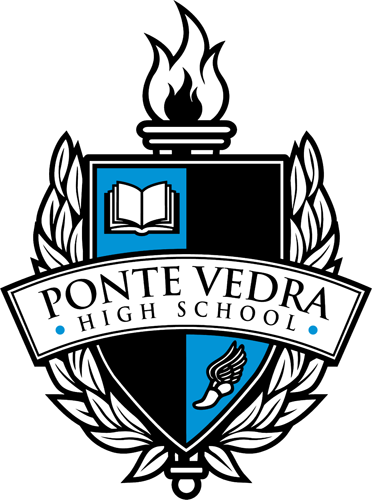 Empowering Every Learner to Develop Good Character and to Achieve Success
Good evening Shark Families:
Welcome back and Happy New Year!  We are hoping that 2022 will be a great year for our school Community.
Over the next several months, we begin the process of scheduling students for the 2022-2023 Academic School Year.  There is important information regarding scheduling contained in this email.  Please review it carefully with your student.
We are very pleased to announce that Ponte Vedra High School has been approved to offer the AP Capstone Diploma Program for the 2022-2023 school year.  We will be offering the first course, AP Seminar, to Juniors only.  The class of 2024 will be the first to have the opportunity to graduate with this distinction.  More information regarding program requirements is contained in this PDF.
In the 2022-2023 school year, we will be launching an Education strand to our Academy Programs for those interested in a career in teaching.  More information will be provided at various parent/student academy sessions.
ALL TEACHER RECOMMENDATIONS AND STUDENT COURSE REQUESTS NEED TO BE COMPLETED NO LATER THAN APRIL 1, 2022.  FURTHER COMMUNICATIONS REGARDING SCHEDULING WILL BE FORTHCOMING.
Below is important information regarding our scheduling process and requirements:
Advanced Placement Courses are the most rigorous courses offered at Ponte Vedra High School.  Please take great care in selecting these courses and the number of AP courses taken in any given year.  Our website has information regarding Advanced Placement course work:  https://www-pvhs.stjohns.k12.fl.us/apinfo/
A Modified Schedule is requested when a student wishes to take less than seven (7) courses.  Only seniors are permitted to request a modified schedule provided they have met all graduation requirements (to include courses currently requested).  Students must request a modified schedule through the guidance department no later than May 27, 2022.  Request forms available in guidance for a Modified Schedule will NOT be accepted after this date.
A Blended Schedule is requested when a student wishes to take a mix of on campus courses and courses taken virtually through SJVS or FLVS.  This option is open to all students.  Students are NOT permitted to take more than three (3) courses virtually.  Students must still be registered for seven courses, unless a senior who will meet all graduation requirements.  Students are to take at least one course virtually to satisfy graduation requirements.
Our intention is to release student preliminary schedules twice this summer, once in late June/early July and again one week prior to the start of school.  This effort is to address any issues prior to the start of school August 10, 2022 when students will receive their final schedule.  Once students preliminary schedules are released in July, we will not accept requests for reasons of teacher change, period change, or changing electives.  Schedule changes will only be accepted for duplicate courses, missing courses, and/or a course level change.
It is important to review the 2022-2023 Pupil Progression Plan for High Schools as well as our course catalogue.  We will inform parents when these documents are available on our website.
We take great pride in our efforts to create a master schedule that meets the needs of all our students.  Please take the time to review your student's course requests and contact our guidance department if there are any questions or concerns.  Thank you.
PVHS Administration
Grad Bash 2022
Join the Ultimate Graduation Celebration for SENIORS! Ponte Vedra High School will attend Grad Bash on April 1st, 2022 at Universal Studios and  Islands of Adventure! Musical performers, live DJs, street entertainment and more.
For tickets, Mrs. Popp in Room 625. All forms and information available below.
Cafeteria Menus
The Ponte Vedra High School Cafeteria has many options for Breakfast and Lunch. Please review the menus below to learn what the options are for your students.
Dual Enrollment
For Seniors and Juniors looking for more information about Dual Enrollment courses, please go to https://www-pvhs.stjohns.k12.fl.us/guidance/dual-enrollment/
Class of 2022 Commencement
Ponte Vedra High School Class of 2022 Commencement Ceremony will be held on May 28, 2022 at University of North Florida beginning at 9:00am.
Family Nights
We are returning Family Nights this year, i.e. no assigned homework, afternoon athletic practices, or assessments the next day, to provide families the opportunity to enjoy an evening together.  We will have one family night per marking period.  The dates are as follows…please mark your calendar:
February 2, 2022
April 20, 2022
COVID-19 Update
Attention Students and Parents!
The safety protocols for the 2021-2022 School Year with regards to COVID-19 have been updated. For the most up-to-date COVID-19, please refer to the School District site.
Quarantine Call Center: Call 904-819-1101 to get answers to all of your health related quarantine questions. 
2021-2022 Instructional Materials Adoption for Mathematics UPDATE
St. Johns County School District curriculum department representatives and adoption committee members have completed the review process for the Instructional Materials Adoption for Math. On January 25, 2022, the School Board will conduct a public hearing to receive comment from the community regarding the final list of recommendations for instructional resources for this adoption. The public is invited to attend this hearing. The hearing will be held at 9:00 a.m. in the auditorium of the District Administrative Building located at 40 Orange Street in St. Augustine.
We encourage parent and community participation in our adoption process. Please visit our Instructional Materials Adoption web page to:
View the resources that are being considered for adoption.
Find out how to serve on a school committee and formally review the resources as a part of the school review team.
Learn more about the policies and procedures for textbook adoption.
B.E.S.T. Standards Presentation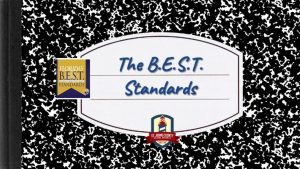 The purpose of the video is to provide parents and community members with information about the new B.E.S.T. Standards for English Language Arts and math. The video also explains the timeline for the implementation of the new standards.
View the B.E.S.T. Standards Presentation
Apply Now for a High School Career Academy / Program of Choice
Families of Current SJCSD 8th and 9th Graders,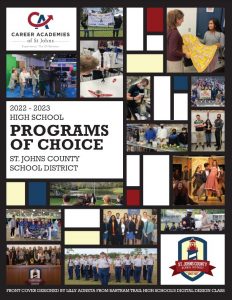 Students in 8th and 9th grade may apply for enrollment in a Program of Choice for any of the St. Johns County School District high schools.
Programs of Choice include high school Career Academies, IB and AICE acceleration programs, JROTC, Early College Program, and the St. Johns County Center for the Arts (SJCCA) at St. Augustine High School.
To learn more, please visit the Career & Technical Education website.
Ready to Apply?
All current 8th and 9th graders may apply by completing the general application in
Home Access Center (HAC)
. Eligible students who are currently attending a private school, home school, or a virtual school may also
apply to a Program of Choice
. The deadline to apply is
5pm on February 10, 2022.
This is just a reminder that anyone (parent, guardian, friend, neighbor, aunt, uncle) must have school access to attend an event at Ponte Vedra High School, have lunch with a student and/or attend an awards assembly. If you have not already done so, please complete the School Access Form. The process for approval may take up to 4 weeks, so please fill out the application sooner than later for any guests that would like to have school access. Once the application is approved, school access will be valid for three years.
FortifyFL is a website and app developed at the direction of the Florida Legislature. Any student, educator, parent or member of the public can report school safety concerns directly to law enforcement and school administrators anonymously and easily through the FortifyFL app or getfortifyfl.com.