TEXTBOOK RETURNS
All students with textbooks checked out must return these to the Bookroom (next to the media center) Tues May 17- Thursday May 26 (once the textbooks are no longer needed for studying) between 8am to 3:30pm.
REMINDERS
•Students must turn in the book that was checked out to them. The barcodes are assigned by the student's name/student id#. Only the borrower can receive credit for the text that is turned in.
•Lost textbooks must be paid for with cash or check in the exact amount.
•Replacement copies of any textbook are acceptable but they must be in good condition and the ISBN must match the ISBN of the text being replaced (see ISBN list on front page of school website.) Copies can be purchased online.
•Books damaged beyond use and or water damaged must be replaced at full cost or with a replacement copy (of same ISBN)
•If lost, notice of the cost will be given at the bookroom. Fees will be refunded once the book is found and checked in.

TEXTBOOK REPLACEMENTS FOR LOST OR DAMAGED BOOKS
In the event a student loses or damages a textbook or library book, an exact copy in new or very good condition may be purchased in lieu of paying the replacement cost. The replacement book MUST be the same version we use at PVHS, so the ISBN must be the same as those listed here for our textbooks. So when you search on a website for the replacement book, search by ISBN.
ISBNs List for 2015-16 school year
JOIN THE PTO and support our Shark family All money raised from membership and fundraising goes directly to support the faculty and students of PVHS.

STAY INFORMED Sign up to receive the SHARKBYTES Newsletter.
SUMMER ASSIGNMENTS
ARE ONLINE NOW.
Link Crew leaders and incoming freshmen, please review the Link Crew schedule for the summer.
If you still need to pick up your pre-ordered yearbook, please Mrs. Forsythe in the front office.
NEW STUDENT REGISTRATION IS BY APPOINTMENT ONLY
To enroll your student you must have completed the 2016-2017 REGISTRATION PACKET.
You must provide all documents that are listed on the Enrollment Checklist. Most important is your Proof of Residency and Immunization without either we cannot enroll your student. Residency requirements can be found on our Guidance page. You also have to bring an unofficial or official transcript with you for the counselor to determine the best courses for your student. Without one you will not be able to see a counselor to discuss classes and we will have to reschedule.
Please contact Ms. Nightingale to schedule an appointment or to answer any questions. She can be reached at 904-547-7366 or by email.
---
Free Use of High School Outdoor Facilities This Summer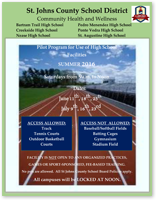 For six Saturdays in June and July, outdoor facilities at each of our high schools will be open for public use to promote community health and wellness. Some restrictions apply.
Please view the flyer for details.