News and Events:  
Find out what is going on and around PVHS through our News and Events and Yearbook information can be found on the Student Life page.
Parents Sign-up for Shark Byte, the schools Newsletter to know what is happening around school. Visit the Shark Byte page to read the School Newsletter.
PTO: JOIN THE PTO and support our Shark family All money raised from membership and fundraising goes directly to support the faculty and students of PVHS.
---
As spring approaches, we are noticing an increase in the number of students driving to school and parking at PVHS. Please note that only juniors and seniors with a valid PVHS parking pass may park on campus.
Also, a gentle reminder that Davis Park is not approved parking and is not affiliated with Ponte Vedra High School. This area is not supervised by PVHS. Students choosing to park their cars at Davis Park do so at their own risk. We appreciate your cooperation.
---
ESE NEWS
The St. Johns County School District is required to annually notify parents of students with disabilities that they may be found eligible for the McKay Scholarship Program for Students with Disabilities.  For more information, please see McKay Letter 2017-2018 and/or visit http://www.stjohns.k12.fl.us/ese/choice/.
To read more about the SJCSDistrict ELL Plan 2016-2019 please view the linked document.
---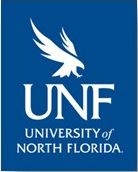 UNF Dual Enrollment- Fall 2017
Applications for fall dual enrollment courses are now available.  Deadline is May 1.
Fundamentals of Speech (SPC2608) and Business Law (BUL3130)  will be held during "0" period before school beginning August 21.
These courses and texts are offered at no cost to students and they are 3 credit hours each.  Course work is a 5.0 GPA weighting.
See Mrs. Asplen for an application and if you have any questions.
---

Our final blood drive of the year will be on Tuesday, April 25.   Registration will be at lunches on Monday, April 24 or you may go online:

Seniors who donate this year may be eligible for a scholarship! POSITIVELY PV BLOOD ALLIANCE SCHOLARSHIP
---
Ponte Vedra Rotary Club- Scholarship News
Congratulations to Adam Snowden, as the recipient of the Ponte Vedra Rotary Club -Service Above Self Scholarship.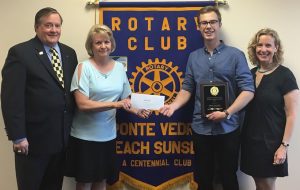 ---
Exchange Seniors
Congratulations to Exchange Club Seniors of the Month award recipients, Evan Trimas & Farley Callaghan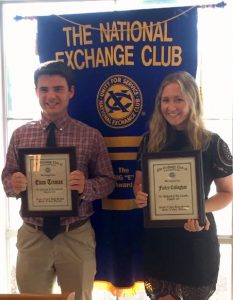 ---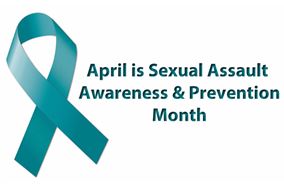 The month of April is Sexual Assault Prevention & Awareness  Month and St. Johns County School District has proclaimed support of this endeavor. Did you know that every 98 seconds someone in the US is assaulted and most of those are young people from 16-19 years old.  It's On Us Club will  have a day of action to prevent Sexual Assault. On Wed. April 26th, our club will have a pledge drive during lunches for those who want to stand up and bring awareness to this issue.   
---
Crutches 4  Africa is collecting no longer needed mobility devises:
Over the next month, bring crutches, canes, boots, wheelchairs, walkers…etc. to the front office.  Let's help those in need across the globe!
---
---
PVHS Library Media Center Spring Book Fair
Come out and get your  Summer Reading for 2017-18 materials and support the PVHS Library from April 29th- May 3rd. You can purchase at the St. Johns Town Center store or online Barnesandnoble.COM/bookfairs.  The PVHS school code is 12124632. Be sure to stop by and meet Lynne Matson at 12:30 on April 29th.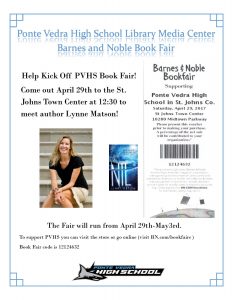 ---
---
The Class of 2017 PVHS Graduation will be held Wednesday May 24th at 3:00 PM at UNF
---
Important Information for Seniors!
Senior Finals Exam Schedule 2017
Important Information for Seniors -Dates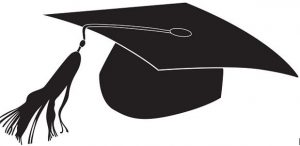 ---
Seniors Get Your Personalized Graduation Sign
Complete the order form by April 28th
---
ATTENTION SENIORS
 The Ponte Vedra High School Baccalaureate is a non-denominational, non-school sanctioned, inter-faith ceremony.  The Class of 2017's Baccalaureate will be held on Tuesday, May 16th -6:00 p.m. at Christ Episcopal Church in Ponte Vedra Beach. 
 The Baccalaureate ceremony offers our senior class an inspirational send-off outside of graduation.  Students will reflect on the past four years, sharing words to inspire for their future years. The evening will include music lead by classmates, advice from special people, inter-faith messages and memorable readings to help guide and send the class off in a warm, motivating fashion. All seniors and their families are welcome to this event!
 Participation in the program (not attendance to the ceremony) is limited and will be filled on a first come first serve basis. We need student musicians and presenters. Seniors interested in participating in the actual line up, please send an email to [email protected] or text 904-762-4838.
---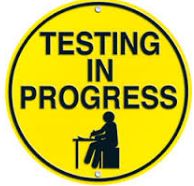 PVHS needs your help! We are in need of volunteer proctors for the 2017 testing season. Please sign up through our Sign Up Genius page http://tinyurl.com/PVHS-Proctors
---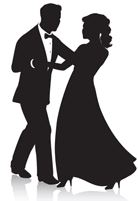 Thinking about attending the Prom?
If so please check out our Prom site, where you have access to all the needed forms prior to purchasing tickets and the Prom Court for 2017. 
---
Interested in Cheerleading?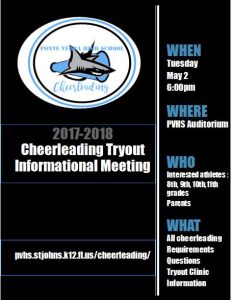 There is a informational meeting for parents and potential athletes, May 2nd at 6pm 
---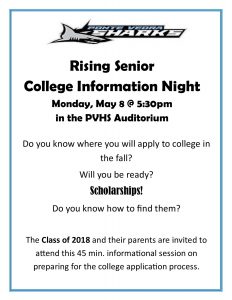 ---
Return Information for Seniors and AP Students 17-18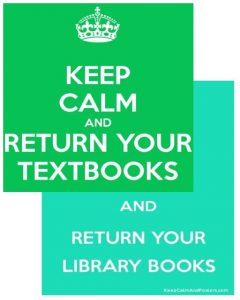 TEXTBOOK REPLACEMENTS FOR LOST OR DAMAGED BOOKS
In the event a student loses or damages a textbook or library book, an exact copy in new or very good condition may be purchased in lieu of paying the replacement cost. The replacement book MUST be the same version we use at PVHS, so the ISBN must be the same as those listed for our textbooks. So when you search on a website for the replacement book, search by ISBN.  ISBN List
---
What does it mean to be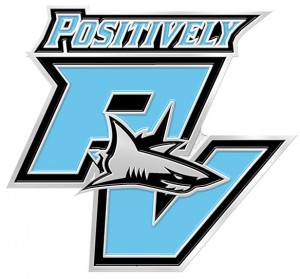 Click the Positively Icon to find out more information and you can also view the Positively PV video
---
NEW STUDENT REGISTRATION IS BY APPOINTMENT ONLY
To enroll your student you must have completed the 2016-2017 REGISTRATION PACKET. For the 2017- 2018 school your please complete the,2017-2018 PVHS Registration Packet 
You must provide all documents that are listed on the Enrollment Checklist. Most important is your Proof of Residency and Immunization without either we cannot enroll your student. Residency requirements can be found on our Guidance page. You also have to bring an unofficial or official transcript with you for the counselor to determine the best courses for your student. Without one you will not be able to see a counselor to discuss classes and we will have to reschedule.
Please contact Ms. Nightingale to schedule an appointment or to answer any questions. She can be reached at 904-547-7366 or by email.
---
Did you know the Ponte Vedra is now on Twitter? You can follow us for school news and school updates @PonteVedraHigh 
---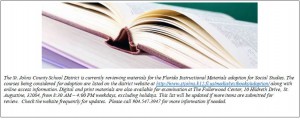 Information regarding the Instructional Materials Adoption