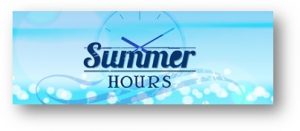 During the Summer, our front office will be open from 7:30-3:30
---
CLASS SCHEDULE INFORMATION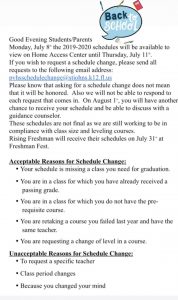 click image to enlarge
---
IMPORTANT INFORMATION REGARDING PARKING
Shark Families:
CLICK THIS LINK to ACCESS the student parking registration form for the 2019-2020 school year.  Only seniors will be permitted to park on campus.  We will accept registrations beginning July 22, 2019 thru August 1, 2019.  We will randomly assign student parking on August 2, 2019 and passes will be available for pick up at Dean's Reception on August 5, 2019 thru August 9, 2019.  We will expand the Honors Lot to include the top 50 seniors based upon weighted GPA.  We will continue to offer on a first come first serve basis passes to seniors thru August 16, 2019.
If after all seniors who wish to purchase a parking pass have done so and spaces remain, we will consider issuing passes to juniors on a lottery basis.  We will communicate further details after August 16, 2019.
Please note that given the limited student parking there will be serious consequences, up to and including revocation of parking privileges, for students who do not adhere to the provisions stipulated in the attached agreement.  Please review it carefully.
You may direct any questions or concerns to Mr. Harris, Assistant Principal:  [email protected]
Thank you and we appreciate your patience and understanding as we work through student parking for the upcoming school year.
PVHS Administration
---
Incoming Freshmen:

click image for details
Click to register for :  FreshmenFest/ParentPalooza  Orientation 2019
---
Shark Dive In!
Upperclass Orientation
August 1st
8:30-10:00-          Seniors
10:00-11:30-       Juniors
11:30-1:00-          Sophomores
---
---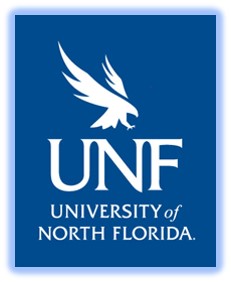 Acceptance letters for Fall Dual Enrollment courses have been mailed out.
Classes begin at 7:45am as follows:
SPC2608/ Speech/ August 19th /Room 315
BUL3130/Business Law/ August 20th / Room 870
DROP DEADLINE: August 23rd
---
PVHS will facilitate testing for those students enrolled in a virtual class over the Summer.
We will allow those virtual school students to test weekly, beginning June 5th and every Wednesday throughout the Summer between 9-11AM.
Students should report to the front office and ask for Mr. Harris upon arrival for an opportunity to test.
---
Sign up for SHARK BYTES to receive updated school information.
---
August 12:  School Returns
September 5:  Open House