News and Events
Find out what is going on and around PVHS through our News and Events and Yearbook information can be found on the Student Life page.
Parents Sign-up for Shark Byte, the schools Newsletter to know what is happening around school. Visit the Shark Byte page to read the School Newsletter.
---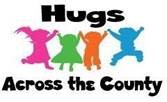 To partner with Hugs Across the County, your Student Government is sponsoring a food drive.
This is a one week drive to help out St Johns County families who were impacted by the hurricane and other circumstances.
From now until next Wednesday, December 14, please drop off the following items in the class boxes at the front office:
Seniors: Poptarts
Juniors : saltines and granola bars
Sophomores: Creamy Peanut butter and pop top cans of ravioli
Freshmen- single serve packs of applesauce and corn flakes cereal
If students would like to earn service hours, they can volunteer to help pack the 'baskets' on Thursday, December 15.  Meet in the auditorium at 8:00 am
The class that brings in the most items will receive a donut and hot chocolate party next Friday morning
Don't forget the deadline is NEXT WEDNESDAY
---
To read more about the SJCSDistrict ELL Plan 2016-2019 please view the linked document.
---
ATTENTION SOPHOMORES!


Have you demonstrated a proven interest in your school and community?
Do you wish to grow your leadership skills?
Do you want to collaborate with students from St. Johns, Duval, and Clay County high schools?
If so, you might want to consider the opportunity with Youth Leadership Jacksonville.    Six Ponte Vedra sophomores will be nominated for this program.
Details can be found here:https://www.leadershipjax.org/index.php/youth-leadership-jacksonville/
Please stop by Mrs. Asplen's office for an application.  All applications, complete with letters of recommendation, are due to Mrs. Asplen by January 18.
---
Congratulations to Victor Manly and Jordan Bartfield who were named Ponte Vedra High School's top youth volunteers for the Prudential Spirit of Community Awards. Victor and Jordan will advance to state level judging and the top youth volunteers in the state will be announced in February. PVHS also recognizes Sofija Djukic, Claire Fodor and Jadelyn Fleischer as runner-ups for their exemplary volunteer service with Prudential Spirit of Community Certificates of Merit.
---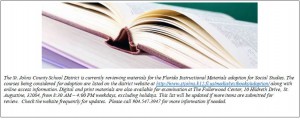 Information regarding the Instructional Materials Adoption
---
NEW STUDENT REGISTRATION IS BY APPOINTMENT ONLY
To enroll your student you must have completed the 2016-2017 REGISTRATION PACKET. Please use the following documents 
You must provide all documents that are listed on the Enrollment Checklist. Most important is your Proof of Residency and Immunization without either we cannot enroll your student. Residency requirements can be found on our Guidance page. You also have to bring an unofficial or official transcript with you for the counselor to determine the best courses for your student. Without one you will not be able to see a counselor to discuss classes and we will have to reschedule.
Please contact Ms. Nightingale to schedule an appointment or to answer any questions. She can be reached at 904-547-7366 or by email.
---
The Class of 2017 PVHS Graduation will be held Wednesday May 24th at 3:00 PM at UNF
---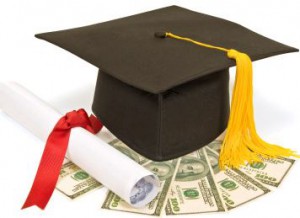 Seniors: Scholarship Opportunity!
Applications for CEC Charitable Foundation Scholarship for graduating seniors is now available.  It is a 4 year need based scholarship and the deadline is March 1.
Details and application can be found on: http://www.christepiscopalchurch.org/in-our-community/charitable-foundation/scholarships-and-grants/
Don't forget to be checking Naviance for other scholarship opportunities!  Many deadlines are approaching.
---
What does it mean to be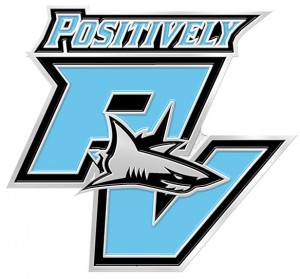 We would like to congratulate our newest Positively PV recipients
Avianna Gordon
Gabriela Fasanelli
Katie Duncan
Sophia Burk
Jack Landis
Kim Barry
Daniel Burkert
Charles Ceratto
Chris Kochan
James Thomas
Click the Positively Icon to find out more information and you can also view the Positively PV video   
---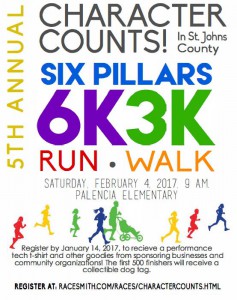 ---
PTO
JOIN THE PTO and support our Shark family All money raised from membership and fundraising goes directly to support the faculty and students of PVHS.
Community Series Program for January will be navigating standardized test preparation, to find out more information click the provided link: PVHS PTO SAT program
---
Did you know the Ponte Vedra is now on Twitter? You can follow us for school news and school updates @PonteVedraHigh
News and Events
---