---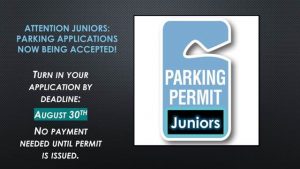 To all Juniors:
It appears that we will have spaces available for a limited number of juniors to park on campus once the White Lot is
complete, which should be sometime in September.  We will begin accepting applications from Juniors beginning today thru August 30, 2019.  Junior parking will be distributed on a lottery basis.  Applications received after August 30th will be processed on a first come first served basis.  Students will not have to submit the $95.00 parking fee until they are notified that they have been selected.
PVHS Administration
---
---
---
---
---
PSAT-NMSQT
October 16, 2019
Ponte Vedra High School will administer the PSAT-NMSQT (Preliminary Scholastic Aptitude Test – National Merit Scholarship Qualifying Test) to all students in grades 9-11 on Wednesday, October 16, 2019. The purpose of the test is to give all students an opportunity to experience taking a college readiness test and identify students who might benefit from advanced coursework.  The PSAT is also the exam that is used for 11th graders to qualify for the National Merit Scholars Program as well as other scholarships. 
10th grade students are paid for by state funding, however students in 9th and 11th grade must pay a $21 fee in order to receive their scores.  Payment will be collected through school pay.   The last day to pay for the PSAT-NMSQT will be Thursday, September 12, 2019. There is NO possibility of receiving results if payment is not received by this date. Your student's Score Report for the PSAT/NMSQT® will be available in mid-to-late December from College Board.
Students will receive an Official Student Guide to the PSAT/ NMSQT® through their English classes. This guide contains valuable information as well as a full-length practice test with answer keys. Please visit www.collegeboard.org/psat for more information about the PSAT-NMSQT or contact Marisa Leonard, Testing Coordinator, at [email protected] with any additional questions you may have.
---
Upcoming Practice ACT and SAT at Ponte Vedra High School
Save the date & your spot now!
SAT_ACT Practice Tests_9'14'19_Ponte Vedra PTO Fundraiser Information
Taking a full-length practice test under timed conditions is essential to being ready for the official test. A proctored practice exam will help your child build testing endurance and give a real-time snapshot of their testing performance.
Saturday, September 14th at 9am
PTO Fundraiser- $20
Click on this link to register
Questions: Call Christina Brownell at 904-862-263 or email her [email protected]
---
Click image for important community service guidelines