AP English Literature and Composition
This will be an outside reading assignment the first few weeks of school.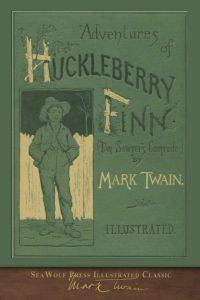 The Adventures of Huckleberry Finn (unabridged) by Mark Twain
ISBN-10: 0486280616 OR ISBN-13: 978-0486280615

Directions: Read and annotate The Adventures of Huckleberry Finn. While reading this novel, you should annotate very carefully, marking the novel, and recording page numbers of specific scenes or quotes that you find meaningful. Also, students should begin to identify themes, literary elements, and author's purpose to build the foundation for essay writing for AP Literature where students seek to answer the questions:
What? (Title, author, theme)
How? (Literary elements)
Why? (What is the author's purpose?)
These questions are the cornerstones of Literary Analysis. After several weeks of instruction, students will be asked to write their first Literary Analysis Free-Response essay utilizing the novel The Adventures of Huckleberry Finn.
Here is a printable version of the assignment. 
AP English Language and Composition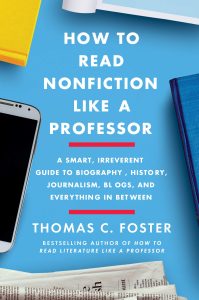 RECOMMENDED summer reading (Printable Assignment)
There is no required summer reading for AP Language and Composition.
The focus of AP Language is non-fiction. Should students wish to do any reading to help them prepare, the book How To Read Non Fiction Like a Professor by Thomas C. Foster can be useful.
As well, reading nonfiction essays and articles on a variety of topics can be helpful. This will give students experience in a variety of writing styles, topics and help build essential vocabulary.
In AP Seminar you will develop and practice the skills in research, collaboration, and communication. You'll investigate topics in a variety of subject areas, write research-based essays, and design and give presentations both individually and as part of a team. This will be the first assignment in class when returning to school.
Printable Versions: Full Assignment or One-Page Assignment Information
Assignment Part A :
Directions: Read the passage found in the full assignment "Letter from Birmingham Jail" by Dr. Martin Luther King Jr., and then respond to the following three questions.
Identify the author's argument, main idea, or thesis.
Explain the author's line of reasoning by identifying the claims used to build the argument and the connections between them.
Evaluate the effectiveness of the evidence the author uses to support the claims made in the argument.
Assignment Part B : 
Directions: Read the four sources (A, B, C, and D) in the full assignment carefully, focusing on a theme or issue that connects them and the different perspectives each represents. Then, write a logically organized, well-reasoned, and well-written argument that presents your own perspective on the theme or issue you identified. You must incorporate at least two of the sources provided and link the claims in your argument to supporting evidence. In your response, you can refer to the sources as Source A, Source B, or by the author's name.
Source A: From the 2021 U.S. Presidential Inauguration Poem: "The Hill We Climb" by Amanda Gorman
Source B: From the essay: "Mother Tongue" by Amy Tan
Source C: Presented by CBS Sports – 2021 National Football League Super Bowl Video "Invisible No More: Evolution of the Black Athlete in the NFL" narrated by Viola Davis
Source D: From New York Times: "For Diversity Leaders in the Arts, Getting Hired Is Just the First Step" by Robin Pogrebin
---
Both parts of the assignment are due on the First Day of Class