Seniors who would like to audition to sing The National Anthem at Graduation!
Auditions: Monday , April 23 @ 4:00
Drama Room
You may audition as a soloist, a duet or a group
Please see Mr. Nettle or Ms. Lee if you have any questions.
---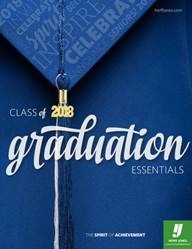 Seniors!  Pick up your graduation announcements in Ms. Lee's room!
---
Prom King and Queen voting will be Thursday, April 19 at lunch. Must have ID to vote!
---
Seniors who still need to order a cap and gown may either visit the Herff Jones website and order online https://www.herffjones.com/product/graduation/#caps-gowns
---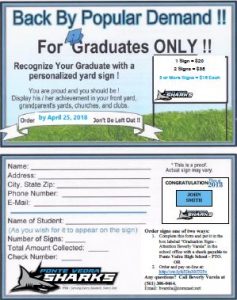 Graduation signs may be ordered one of two ways:
1.) Complete an order form and pay via check payable to: Ponte Vedra High School – PTO.  Attach the check to the completed order form and place them in the white, plastic box, labeled "Graduation Signs – Attention Beverly Varela" that will be in the front office of the school.
OR
2.) Order and pay on-line at: http://ow.ly/k5Do30iTG5v
---
Scholarship Opportunities:

Bogey Grille Scholarship: Deadline is April 30, 2018
2017-2018 BOGEY GRILLE SCHOLARSHIP
Positively PV/One Blood Scholarship
If you are a senior who has donated at least once during THIS SCHOOL year, you can apply for this scholarship. Please pick up an application from Mrs. Asplen's office.  Deadline is April 20th
Congratulations to the following seniors who have been nominated for the Christian Educators Association award for the seniors have who have walked the Christian walk daily.
Caitlyn Ortiguera
Sarah Waters
Carson Shoals
Anna Grace Pahlow
Please come to room 775 to VOTE for the 2 seniors who will receive the award.  The top 2 seniors with the most votes will receive the award and scholarship.  Spread the word!  And congratulations nominees!!!
---